Our Varnishes Insulators
Four different impregnation techniques are used according to the particular material, the spraying type, quantity of parts to be treated and the desired result.
Spraying
This procedure is used for treating single parts, requires little material and is therefore quite attractive.
The conditions for good impregnation with this procedure are:
dipping at room temperature.
in certain cases, to improve the penetration of the varnish to the core of the winding, prior preheating of the parts to a temperature of 50°C is recommanded.
weight related drainage of the material impregnated and the ventilation of the installation.
raise of the ambient temperature to the recommended level.
outlet for the evaporation of solvents.
rise in temperature and polymerisation.
Vacuum and pressure in an autoclave
This version, more technical than the previous ones is used where penetration to the core of difficult parts is necessary:
dehydration at 130°C
slow introduction of the varnish through a partial vacuum to avoid the effects of bubbling
subjection to pressure (between 1 and 3 bars)
drainage
a progressive rise of the temperature with strong ventilation
outlet
rise to the recommended temperature*
polymerisation*
*refer to the documentation for the chosen varnish
Drop-by-drop impregnation
Procedure requiring mainly two-component resins. Its principle is:
preheating of the winding to 80°C by Joule effect or some other method.
rotation of the winding around its axis at between 30 and 60 revolutions per minute.
flow of the resin via nozzles on to the hot, rotating part. On contact with the hot part the resin flows and penetrates to the core. The winding then fills up via capillary action;
with th maintained rotation, re-apply the heat. The resin cures quickly (a few minutes).
a post-curing will allow the reaction to complete and give the resin its optimum quality.
To choose the impregnation varnish best suited to your material, the parts to be treated and the technical requirements, refer to the paragraph "Recommended Uses" in each technical document.
Our commercial teams are available to help you find the best product for your application.
For any inquiry, please contact us.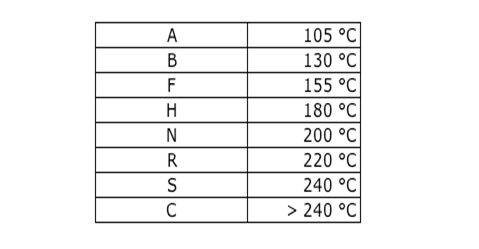 The thermal class
The thermal class of  electrotechnics product such as transformers, determines the maximal temperature to which insulation materials and systems of insulation guarantee a thermal stability with regard to the ageing. The thermal classes and the temperatures which are attributed to them are sumerise in the table below. These temperatures are the real temperatures of the insulation and not the heatings of the transformer or the maximal ambient temperature.
Solvent based varnishises
Vernis isolant à base d'eau